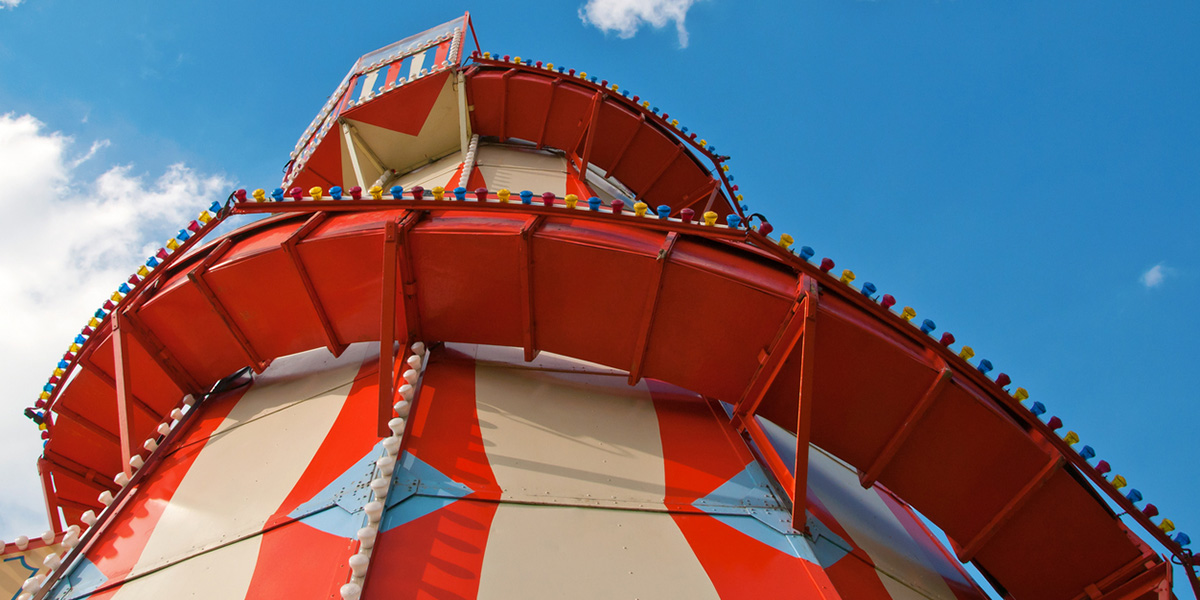 Helter Skelter
The infamous Helter Skelter has been around since the early 20th Century. Originally a ride that appeared at Coney Island in the USA, this timeless classic continued its life in the UK, across nearly every fairground in the country. Today, it's not seen so often in the USA, but is still as popular as it always was in Britain. The term 'Helter Skelter' means 'confused and disorderly', which is exactly how you feel when hurtling down the twisting, turning slide. It is also known as a 'Lighthouse Slip', 'Alpine Glide' and 'Glacier Slip'.
First seen in 1906 on Blackpool Pleasure Beach, the Helter Skelter is an iconic structure, usually reminiscent of a lighthouse. Often seen by the seaside, its circus-themed colours are eye-catching and exciting. Traditionally, the tower itself is made from wood, but these days it can also be made from aluminium. The chute is made from laminated wood, making it easier for the mat or hessian sack to slide down, at a rate of knots! To reach the top, you must climb up inside the tower where it's quite dark.
You can imagine in Victorian times, the smell of the sea penetrating the wood and the wind whistling through the slats, as you made your way higher and higher. On reaching the top, you are blinded by the beautiful sunlight at the top, ready for your stomach-churning adventure on the way down!
The Helter Skelter is an ideal addition to any party, wedding or event, because it takes up very little space on the ground and because of its height, is easily seen for miles around. There are no mechanics involved, so it is easy to put up and maintain during a party, with people being able to have as many slides as they like, without having to wait for the ride to finish.
Such a traditional ride, the Helter Skelter would go down well at a wedding, with ample opportunities for photos and the children would have a blast!